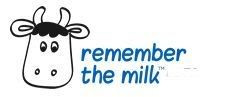 My Palm Treo died, but it never quite fit the bill anyway. So I've been looking for a good,
free
online PDA. I need a reminder that will jump out and yell at me when I'm about to miss an apointment or a deadline.
Remember the Milk
seems to fit the bill. It shouts at me via my choice of email,
SMS
, and instant messenger (
AIM
,
Gadu-Gadu
,
Google Talk
,
ICQ
,
Jabber
,
MSN Messenger
, and
Yahoo!
are all supported). It'll even
Skype
me.
Tons of other features -- too many to list here -- make this a pretty happenin' way to track what's happenin'. And you can't beat the price.
How do you keep track of your to-do list on line? Share your faves by clicking that Comments link just south of here. Moo-ve along!