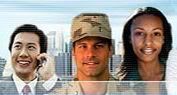 Free Credit Report dot com has a catchier jingle, but if you want a credit report that's
genuinely
free, you want
Annual Credit Report
-- the one mandated by the federal government in an effort to stop identity theft.
That law says that once a year, each of the big three credit reporting agencies must provide you with a free copy of your credit report. All you're required to do is ask.
Spread out your requests throughout the year so you can monitor activity that takes place under your name. The schedule is: Equifax on your birthday; Experian on your spouse's birthday; and Transunion on your anniversary. Got that?
Mark it on your calendar. Or you might end up selling fish to tourists in T shirts.
(Then click that Comments link below to share a tip for improving your credit score.)