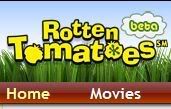 So, so tired of wasting twenty, thirty bucks -- and a couple of hours of my life -- on bad, unfunny, poorly made movies. Any more, I don't see a movie unless
Rotten Tomatoes
says it's worth my time.
Rotton Tomatoes surveys not just one or two critics; it surveys every critic under the sun, including my absolute favorite,
Eric Snider
. And it assembles all those critics' ratings into a single score that's far more reliable than any one person's opinion.
Tell me how you decide what movies are worth seeing. Click the Comments link below.